As the global economy continues to grow, one thing is certain: companies need translation services now more than ever.
Whether your company is a large, bustling enterprise with thousands of locations worldwide and you need to support your staff, or you're a smaller local company that interacts directly with customers, reliable communication can be the key to your success.
Our team has established a system that guarantees high quality translations that don't leave anything up for misinterpretation. And now, you don't have to take our word for it.
We've recently received a Five Star review on Clutch! A B2B ratings and reviews site, Clutch.co helps companies find high performing partners, and vendors, like us, can find buyers for our services.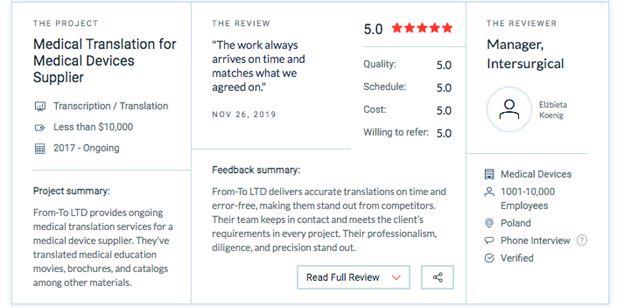 With two decades of translation experience under our belt, we're confident that our transcription services are accurate every time. We verify and document each of our translators to ensure that they're native speakers and subject-matter professionals.
After each translation, the text is proofread by another professional. Using IT tools, we can consistently meet client preferences in terminology and expressions.
In the project that is highlighted on our Clutch profile, we helped translate education videos, brochures, and lengthy catalogs for a medical device supplier. Our partners simply send us the materials and we get back to them by the deadline.
Like all of our projects, the feedback from our client was overwhelmingly positive. By going the extra mile and providing QA for each and every document we translate, we ensure that they can trust our work to be right. Compared to some of our competitors, we stand out as a reliable resource:
"In a lot of my experiences in previous years where I always had to correct most of the translation. This has been the first agency where I didn't have to make any corrections to their work."
You're able to find more information about how we stack up to others in our field by visiting Clutch's sister sites—The Manifest and Visual Objects. Whether you're looking for a company description site, like The Manifest, or want to make your business decision on market research, their resources are a valuable guide to finding verified, well performing partners.
Like us, Clutch, The Manifest, and Visual Objects, want to ensure that you get what you need out of your business relationships. We think you'll find the best solution with us. To discuss your business needs, contact us. You can find our information here.