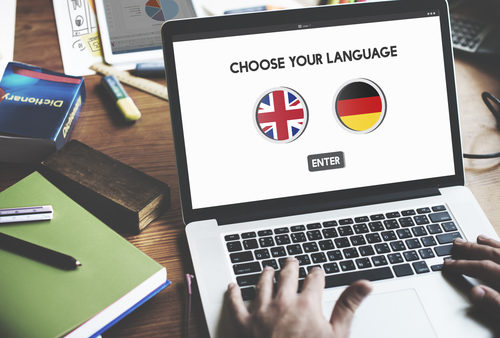 The great thing about the Internet is people from all over the world can access it, and it makes it easier than ever before to do business globally. However, as there is no single universal language in use that can reach all markets it means there are some markets you're not reaching with a single language website.
Want to learn more? Read on for 5 good reasons to translate your website.
More Languages Mean More Customers
If you are a UK-based business 90% of internet users are located outside the UK, and most of them don't speak English well enough to fully understand the content of your offer and be persuaded by it. In fact there are many people living in the UK itself who are also not proficient in English.
Customers are easier to reach and persuade when you speak to them in their own language. Even if they speak English as a second language, they may feel more comfortable shopping or finding useful information in their own language. For this reason, offering your website pages in other languages will increase your reach. In fact, you could be increasing your audience by millions!
The same is true for any business anywhere in the world. Your local customers are just the tip of a much bigger iceberg. When you decide to translate your website, you are stepping into their world and looking to grow your business beyond your borders.
2. You Are Easier To Find When You Translate Your Website
Have you already invested in digital marketing efforts like SEO? Then you know it is extremely important to make your website easy to find via search engines. Consider, web searches are made in many different languages and it's a lot easier to rank high in those search results when your site has a native-language version for Google to index.
For example. Suppose someone in Germany (a big German company) is looking for a website translation. What they will ask Uncle Google isn't "website translate" nor "translation agency". They will be looking for these terms in German. And if they search for "Übersetzungsbüro", you will not show up in search results unless your website is localised into German.
3. International Customer Engagement
Online marketing gives you an incredible opportunity to engage with your customers to learn what impact your products and services are making. Likewise a multilingual website will enable you to tap into this valuable source of information as well.
4. Continued Growth
Inevitably you will eventually saturate the market for potential customers who speak your native language. Going multilingual is an effective way to pursue further growth without engaging in head-to-head competition. The first stage is planning the target markets and what is needed in terms of what language(s) to translate first. If on the other hand you are not opposed to competing directly with other businesses in your industry you can get ahead of your competition if you translate your site and enter a new language market before they do.
5. Brand Recognition Does NOT Cross Language Barriers
According to Harvard Business Review, customers will pay a premium to work with businesses who speak their native language.
72.1% of consumers spend most or all of their time on websites in their own language.
72.4% of consumers said they would be more likely to buy a product with information in their own language.
56.2% of consumers said the ability to obtain information in their own language is more important than price.
Unless you're speaking to customers in their own language, it's extremely difficult to cultivate the trust that is the foundation of a positive brand relationship. You need to literally translate your brand to make vital inroads into new markets.
Now you know why you should have your website localised for other markets, there is one VERY IMPORTANT thing to remember: it is not enough to simply have your website translated into the language of your desired market – it should be localised by a reputable translation agency. The following case study explains why:
"I was once approached by a Lithuanian company which wanted to sell their beautiful jewellery in Poland. They already had all the content of their online shop translated into Polish and the person who performed this service was a native speaker of Polish. However, business didn't go well. They had visitors on their website but no sales at all. So they asked me for an audit. Here's what I discovered: the translator might have been a native speaker of Polish, but a very poor one. I guessed this person was living in Lithuania (there is a big minority of Polish people there because once this territory was Polish and some of my compatriots stayed there, and they speak archaic Polish) who had no idea about specific terms used by Polish people in Poland for online shopping. So the language of the company's online shop was archaic, unnatural, and there were a lot of errors. I retranslated their website and sales started to come in. In addition to payment I received a very nice thank-you gift – a pair of earrings". ~Monika Rozwarzewska, Language Service Manager at Lingonika Limited.
We can translate/localise your website into the language of your choice to help you maximise your audience and avoid additional costs. To find out more and how the process works, reach out to us!